FAQs
Frequently Asked Questions
Trading is easier when you've got all the answers.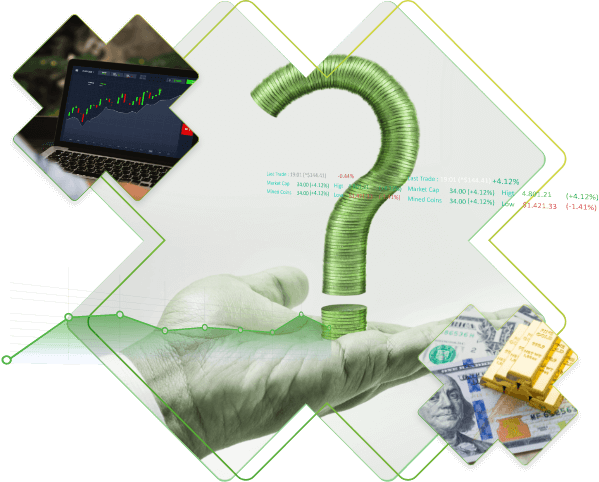 Only clients who meet the account specific criteria can opt to change their account type. Please see here.
Yes. Upon opening an account, you have the option to use both real and demo modes. We also encourage new Clients to practice trading on a demo account before transitioning to live trading.
To reset your account password, log in to your client area and select 'My account'.  Here you'll be able to create a new password. Your new password must contain: Both Upper and Lower case letters, at least 1 symbol and number. 
To update your name, log into your client area and select 'My account'.  Here you'll be able to edit your credentials.  
The most convenient way to verify your account is to provide us with your Proof of ID (POI) and Proof of Residence (POR) documents. To do this, you must log in to your account and start the verification process. The process will only take a few minutes. Your account won't be fully active until our team has received your POI and POR documents.
What's a valid POI document?
A valid, clear colour copy of your Passport or government issued ID or Driving License, in high resolution, showing the relevant information including:
Your photograph, full name and date of birth.

Country of issue and expiry date.

Passport/ID number, MRZ number or Driving License number.
Please ensure the copy is not cut/cropped and all edges are visible.
What's a valid POR document?
A clear copy of your recent utility bill, bank or tax statement showing the following:
Your Name.

Your home address.

Date of issue.

Issuer of the document.

Dated within the last 6 months.
Axiance takes the privacy and security of your financial and personal information very seriously. We strive to maintain industry-standard administrative and technical safeguards designed to protect any sensitive information, all of which are described in detail in our Privacy Policy.
There are also things you can do to help keep your personal data safe:
Never share your account password with anyone. Axiance employees will never ask for your password.

Beware of online fraudsters, and do not click/open suspicious emails and attachments. All transactions (deposits/withdrawals) must be carried out via our secure Client Area.

Regularly update your password(s), and store your username and password combinations safely.
Axiance offers different account types to Retail and Corporate clients. You can view our account types here.
The "Appropriateness Assessment" is a way for us to assess whether a complex product such as CFDs, is appropriate for you. As a regulated broker, we are required to obtain your investment knowledge and experience in trading complex instruments, and assess that information.
If you lack the knowledge and experience required to trade complex products, or if you failed to complete the Appropriateness Assessment, we may not allow you to trade in such complex instruments or you may be required to proceed with a demo account, prior to opening a live account.
Please contact us, If you would like us to reassess your suitability, or if you believe that the information you have provided us on the registration form was inaccurate.
Customers are required to verify their accounts for identification and security purposes in accordance with our customer due diligence process, for example the verification of your name, date of birth, residential address, phone number, email address, payment method, etc.
We may need this to prove that you are in possession of the card and your name is on the card.
Third-party deposits are not supported.
To fund your account, log in to your Client Area and access your Wallet. Here you will select the Transaction Type of "Deposit Funds".  
To withdraw funds, log into your Client Area and access your Wallet. From there you can select the Transaction Type of "Withdraw Funds" to submit your withdrawal request. Before initiating a withdrawal request, you must ensure that you have funds available to your account.
Please Note:
Withdrawals can only be transferred to your original payment method; the card, Bank Account or e-wallet you have chosen to make a deposit. Additionally, if you have chosen to close your account with us, you must make sure to transfer all your funds before the account is closed. Once closed, the account will be restricted and you will no longer be able to make further transactions.
Any electronic movement of funds via debit/credit cards or e-wallets is immediately processed. Bank transfers can take from one day to three business days, depending on your bank. 
Processing time varies depending on the nature of the withdrawal request. It usually takes 1 business day to process withdrawals, provided we have all the necessary information. Please allow sufficient time for the funds to reach your account. You can find more information here.
The minimum withdrawal requirement for credit/debit cards and Bank Transfers is 50 EUR/USD/GBP.
The following deposit methods are available:
Credit/Debit card

E-Wallet

Bank Transfer
You can view our full list here.
The minimum deposit is 100 EUR /USD/GBP.
Some times we are required to charge a commission for handling transactions. Please see our Costs and Charges for details.
Yes. The Negative Balance Protection limits the maximum losses that a retail client could have. It is designed as a backstop for when margin close – out rule or stop out rule does not work effectively as a result of a very sudden price movement. By introducing a Negative Balance Protection per account, the client can never lose more than the total sum invested for trading CFDs. Pease refer to your Client Agreement for more information.
At Axiance we offer swap-free accounts, in which there is no rollover on overnight positions, to the eligible Islamic Account holders. Terms and conditions apply. Please refer to our Client Agreement for more information.
Axiance currently offers Contracts for Differences (CFDs) on FX, indices, stocks, cryptos, energy and commodities to trade. You can read more about our products on this page.
Our rollover occurs at 00:00 (GMT+3), MT4/MT5 server time.
You can see how we calculate our Swap rates here. Swaps are also visible on all supported platforms.
What is Swap?
A "swap" is the process of keeping a position open overnight. The swap cost can be positive or negative depending of the instrument to be traded.