A modern-day broker for a new generation of traders
We are a multi-asset brokerage firm offering CFD investment services and dedicated to ethical trading practices.
Our mission: setting the standard in responsible investing for retail and institutional clients.
As a broker with sustainability and CSR at its heart and soul, we aim to stand out by providing financial instruments that hit metrics which matter to forward-thinking investors and reflect their values in a smart, cost efficient and fully transparent and fair trading environment.
Our three pillars
Sustainable finance/Socially Responsible Finance
Our clients are in tune with the times. So are we. By advocating further adoption of corporate social responsibility in the financial industry and translating it into Environmental, Social and Governance (ESG) practices, Axiance helps you trade more responsibly.
We use the power of our technology to add real value to our clients' investment activities and to further build upon our ambition to follow an inventive approach in how we do business.
Our company is cultivating an environment of fairness and transparency. These principles govern how we communicate and how we treat our clients and our employees. We make sure that the service we provide to you is fair and offer complete visibility for cost.

Regulated Trading Environment
Axiance is a Trademark owned by multiple entities of the Axiance Group. The brand operates and complies on a global scale under strict regulatory frameworks through different entities and licenses.
International (FSA)
Aerarium Limited is authorized and regulated by the Financial Services Authority (FSA) Seychelles under license number SD036.
Global (FSC)
Aurum Capital Ltd is authorised and regulated as an Investment Dealer by the Financial Services Commission (FSC) Mauritius under license number GB20025770.
Trade from a range of global CFD instruments with a safe and regulated broker.
20+
shares with depth of market
17
top global cryptocurrencies
300+
instruments to trade with low spreads
ultra-fast
execution speeds
Trading involves significant risk of loss
Our philosophy
Our philosophy is underpinned by our socially responsible operations and our ESG compliance which create value and responsibility towards our staff and integrity as a business towards our clients.
We make it personal
It was time for a new player in the online trading industry to take on more responsibilities and go beyond compliance, bringing real value to traders with a philosophy that encompassed the financial world and the environment.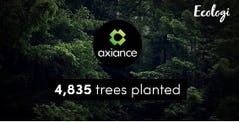 A greener footprint
In partnership with UK-based social enterprise Ecologi, our Climate Positive Workforce initiative has helped reforestation across the world with 3600+ trees planted and offset 265+ tons of CO2 emissions so far.

Axiance is also involved in various CSR activities throughout the year to foster solidarity in the local communities.
Sustainable habits
Because creating value for society and the environment is also our goal, we believe small incremental changes are crucial to making a bigger difference on the long run.

We implement recycling in all our activities and our people are trained to adopt and encourage daily sustainable habits. Business travel is reduced to the bare minimum.
Investors in People
Investing in our people is essential in achieving continuous growth and delivering sustainable results. We are a people-focused organisation and this is what will drive and sustain our competitive advantage. As part of our continued efforts to become a standard-setting organisation in our field, we are implementing the Investors In People (IIP) accreditation requirements with the goal to successfully complete the process and bear one the most recognized marks of good practice.